Hayvend Laboratories
Operating out of London, Hayvend Laboratories has been selling "affordable, desirable and collectible" artworks since 1995, which makes it one of the longest running art vending projects we know of. Currently run by John Hayward and Bee Kreskin. John Hayward is following in the footsteps of his grandfather, a vending pioneer. John't grandfather recognized a need. People still needed hay for their horses at night, or on holidays, when the hay sellers were closed. He set up a hay vending method that used an "honesty box" so people could get hay whenever they needed it. The current John Hayward has found a way for people to get art when the galleries are closed: by selling it from shiny yellow vending machines: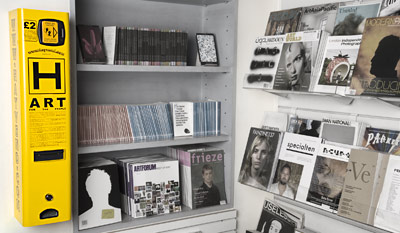 Hayvend machines can be found in many areas throughout London and in the UK. According to their website:
"All the artworks are affordable, as well as desirable and collectable, making the Hayvend experience last long after the coins drop and the draw opens. John believes that art can be ubiquitous, for everyone to enjoy."
UPDATE August 2015. The Hayvend domain expired from lack of payment in 2013 and I can find no new information about Hayvend, which leads me to believe it is no longer operational. It seems like this is a real tragedy. Just look at this list of artists who had exhibited in Hayvend up to 1999 or so. I would greatly appreciate any update that anyone can provide about what happened to Hayvend.
Archived Hayvend site at Archive.org