A Brief History of Art Vending Machines
We're working to build this history of vending machine art, to honor those who've come before and to inspire those who come next.
Currently, this is just a stub. In the future, we hope to expand this into the rich, multi-page extravaganza the subject deserves.
Art vending machines tend to operate for a short time in limited areas. So much so that most people encountering an art vending machine for the first time believe that it is the first of its kind and that its creator had come up with a completely original idea. Many of the people (Callithump! staff included, initially) who run art vending machines often believe they're the first ones to think of it. The idea of using vending machines to sell art is nothing new. It's been going on for decades.
Unfortunately, the history of art vending machines isn't very well documented.
If you're currently involved in an art vending project, or have ever been involved, or know anyone who has, please
contact me
and I'll add your information.
We want to make this as comprehensive a history as possible. If you've been involved with any of the projects on this page please share any additional information with us. We'd really love to expand on this and make it as.
Important Disclaimer: Callithump! is not affiliated with, or endorsed by any of these entities. Any links to, or graphics from, their various websites are probably without the knowledge or consent of the creators. We hope that you understand we're doing this to celebrate and promote the work that you do. If you don't feel this way, please contact us and we'll rectify the situation immediately. Also, any information presented here is gathered from the Internet or is our personal opinion, and is likely incomplete and innacurate. Please help us fix this by letting us know!
Prehistory & Fluxus
The earliest coin-op vending machine (that we know of) was invented by
Hero of Alexander
. It dispensed sacrificial water in a Greek temple for 5 drachmas. Surprisingly, the idea of "coined consumerism" didn't catch on for another 1,700 years. The first vending machines in regular usage came about in the 1880s in England. These dispensed postcards with scenic views of London. About the same time British publisher Richard Carlisle created a vending machine to sell books. So really, the first modern vending machines were art vendors! However, these first vendors were more likely business people trying out a new way of selling products rather than artists looking for a new venue for their creative output. That would take another 80 years.
Like most worthwhile art of the latter half of the 20th century, vending machine art started with/was popularized by the Fluxus movement. They were the first to recognize the creative potential within vending machines.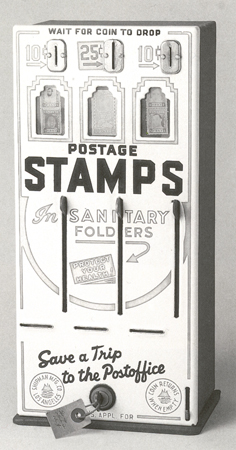 In 1963 Robert Watts used a stamp vending machine to vend "Fluxpost" stamps. I've only been able to find a picture of his machine, however, not what was inside it.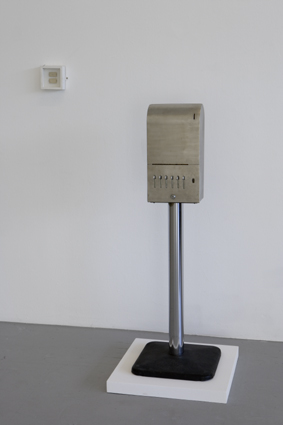 In 1966, Yoko Ono created "Sky Machine," a vending machine that sold "pieces of sky." Other
Fluxus
artists also used vending machines in their artwork, blurring the line between art and the selling of the art. The act of buying the art became part of the piece itself!
The Daily Palette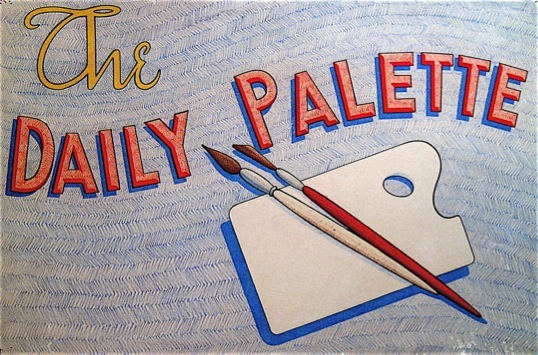 The idea of the vending machine as an alternative art gallery began in the 1970s with Robert Piser's The Daily Palette. The Daily Palette was a series of newspaper vending machines in the San Francisco Bay Area. These were filled with weekly silk-screened art editions that sold for 25 cents, or, as Piser put it, "Significant art works at popular prices." Piser's work was significantly different from the Fluxus artists. The Fluxus artists vended work by single artists inside a gallery. For Piser, the vending machine was the gallery, selling work by a variety of artists in locations not typically associated with art, such as on street corners. The desire to break away from traditional ideas of art galleries and to make art available to "non-traditional art buyers" aka, regular folk, are ideals that most contemporary art vending machine endeavors share.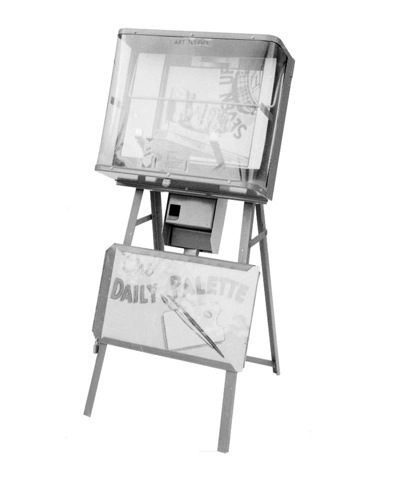 According to Piser:


"I was a young art student and was frustrated with the straight / closed gallery scene in the bay area and was just looking for a way to show my work and it was a cool way to do it. I was part of the bay area underground music and art scene of the late 70's and 80's. The Ant Farm, Survival Research Laboratories, Flipper, Dead Kennedy's, Cramps, etc. I taught lithography and silkscreen printing at Berkeley and was part of a group of alternative printers and artists who were involved with the "mail art" movement. ( The Mac and email weren't designed yet). The machines were $55 and I had 8 of them at one time. The cost of the operation wasn't close to the money I got back at 25 cents a piece, but a quarter seemed like the best price someone would actually let go of at the time, besides, it wasn't the point really. It was the cheapest gallery in the world. People liked the concept and I showed all kinds of people's work , (too many), and people mostly stole more than they paid for. The UC Berkeley police actually confiscated some machines as they said they were on university property and I had to bail out the machines and I had a show accordingly at UC Berkeley art museum. Too many stories... I ran it for about 6 years and got tired of it. ..."
Blumenautomat Gallery

The
Blumenautomat Gallery
was curated by
Georg Glueckman
and Suwan Laimanee and
operated from 1987 to 1992 in Berlin's
Kreuzberg district.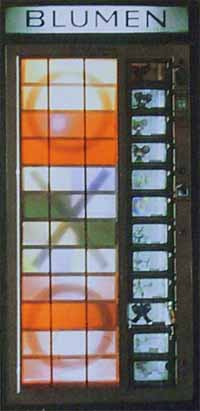 Glueckman and Laimanee repurposed a retired flower vending machine and used it to vend small sculptures: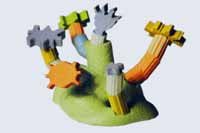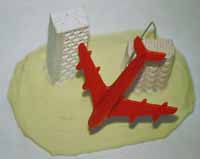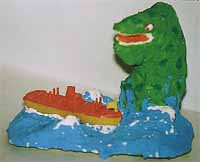 Glueckman and Laimanee had operated more traditional art galleries before, but discovered that this left them with no time to create their own art. With the Blumenautomat Gallery, they had "the only European gallery
open 24 hours a day, 365 days a year."

Hayvend Laboratories

Operating out of London, Hayvend Laboratories has been selling "affordable, desirable and collectible" artworks since 1995, which makes it one of the longest running art vending projects we know of. Currently run by John Hayward and Bee Kreskin. John Hayward is following in the footsteps of his grandfather, a vending pioneer. John't grandfather recognized a need. People still needed hay for their horses at night, or on holidays, when the hay sellers were closed. He set up a hay vending method that used an "honesty box" so people could get hay whenever they needed it. The current John Hayward has found a way for people to get art when the galleries are closed: by selling it from shiny yellow vending machines:



Hayvend machines can be found in many areas throughout London and in the UK. According to their website:


"All the artworks are affordable, as well as desirable and collectable, making the Hayvend experience last long after the coins drop and the draw opens. John believes that art can be ubiquitous, for everyone to enjoy."
Art*o*Mat®

Art*o*Mat
® was started by Clark Whittington in Winston-Salem, North Carolina, USA in 1997.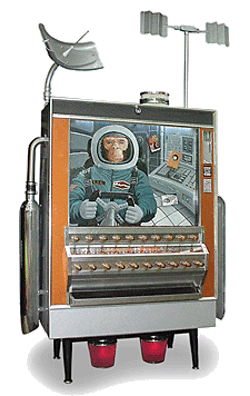 It's arguably the most polished, professional. longest running and most successful art vending machine in the US. It's birthplace is significant, since Winston-Salem is also the birthplace of the R. J. Reynolds Tobacco Company. It's really a city that was built on tobacco smoke... and lung cancer. Bans on selling cigarettes to minors have made many cigarette machines in the USA obsolete. Fortunately, Clark has found a new use for these old machines.
Art*o*Mat ® rehabilitates cigarette vending machines, and the machines are works of art unto themselves. They completely redecorate and refurbish the old machines, making them fresh and new while still honoring the historical context of the period the machine was created in. Check out their gallery! Currently they have 82 machines around the US other countries. Better still, they give artists a generous 50% cut of the sale.

Distroboto
Distroboto, started in 2001, by Louis Rastelli in Montreal. Distroboto also uses cigarette vending machines. In fact, Rastelli got the idea in 1999 when, on a trip to North Carolina, he encountered an Art*o*Mat ®.

Remarkably, Distroboto vends for $2 and gives the artist a $1.75 cut! Unfortunately, (for those of us living outside of Montreal) Distroboto is run by Archive Montreal:


"Archive Montreal is a non-profit organization founded in 1998 by local writers, artists and publishers. Its mandate is assisting in the promotion, distribution and preservation of local independent culture.Archive Montreal appears to be totally focused on Montreal. You can only get Distroboto from vending machines in Montreal."
This is a shame because their work looks so tantalizing: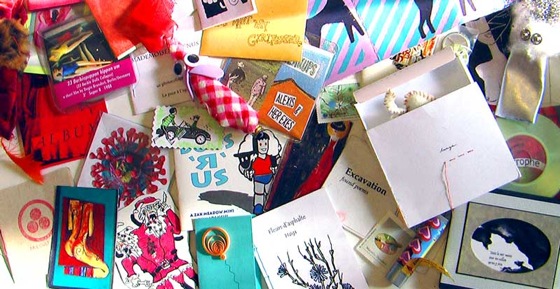 Gumball Poetry
Gumball Poetry was published by Laura Moulton and Ben Parzybok from 1998 to 2006 in Portland, Oregon. Like Callithump!, they used 2" capsule toy vending machines to sell poetry and other contents. Smartly, their main focus was poetry, printed in black & white on plain paper. This would lower costs and reduce production time over the elaborate way we do it! They even included an actual gumball in the capsule, so even if you didn't like the poem, you still got your money's worth. Gumball Poetry had a good run of it, with 19 machines throughout 8 states in the Pacific Northwest. Happily for them, but unfortunate for the rest of us, Laura and Ben have moved on to other creative endeavors (like having children and writing books).




Button-O-Matic
Button-O-Matic is a project of the Busy Beaver Button Co, which was started in 1995 by Christen Carter. Button-O-Matic has featured curated annual art exhibits (on buttons, aka pinbacks, sold from toy capsule-style vending machines) by a wide variety of artists since 2002. Some of the artists are quite impressive, including Chris Ware, Tim Biskup and Mark Mothersbaugh.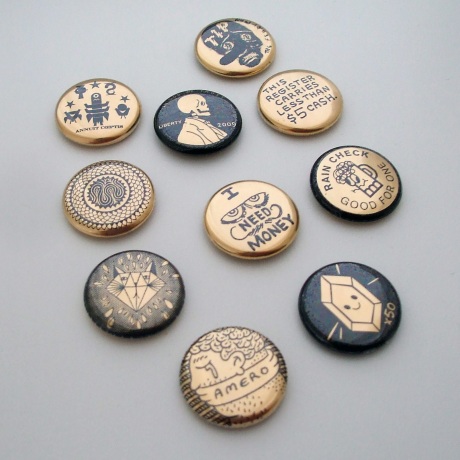 Currently, we don't know a whole lot more about Button-O-Matic, but we'd love to! To paraphrase Wikipedia, this is just a stub. If you have further information about Button-O-Matic, please share it with us!

Outsider Art in a Box
Outsider Art in a Box operated in Vancouver, British Columbia, from 2006 to 2008. It was curated by a woman named Rhonda Simmons who repurposed sanitary napkin/tampon dispensers to vend art. The machines were works of art unto themselves: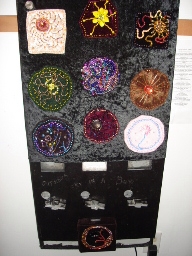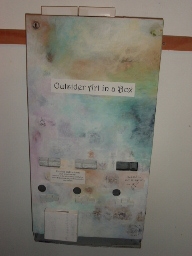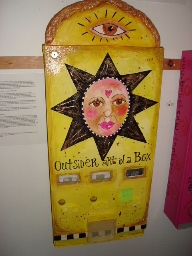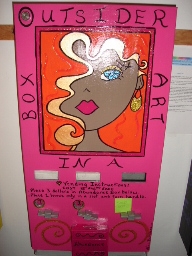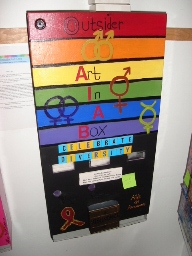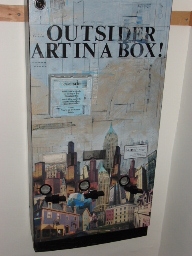 A significant difference between Outsider Art in a Box and other art vending projects is (to spite the name) the apparent level of community amongst Rhonda and the other artists who contributed to the project. The vending machines were decorated by Rhonda's friends and acquaintances, and much content appears to have been created during creative events that she facilitated.




Snack Art
Back before the University of Maine, Orono, sold out it's students by granting a vending concessions monopoly to Coca Cola, the vending machines were filled by independent contractors. Since Orono isn't too far from the Canadian border, the contractors would have routes that went up into Canada. Sometimes, when they ran out of US products, the contractors would fill up slots with Canadian product. It was a kind of magic when you'd come across this. You'd find things you'd never heard of before, things that you couldn't find anywhere but that one vending machine at that one moment. When that thing was gone, you'd never see it again. Somehow, those rare items always tasted better than the standard fare. The chocolates were made from real chocolate instead of the brown-dyed paraffin that passes for chocolate in the US, for example. Or you'd get mirror mirror versions of the old standards like lime & black pepper chips instead of salt & vinegar. It was always a rare and special treat to find these things in the vending machines, and I'd always pump in my quarters when it happened because I knew I wouldn't have another chance. When I came back, it'd be gone.

In Australia, there's a vending machine that must be filled by contractor who's route travels not just to nearby countries, but into parallel Earths. In these worlds the vending machines don't sell just junk food. They sell artwork!
With Snack Art, Sydney, Australia's Jane Naylor vends artwork alongside the usual tasty snack machine treats.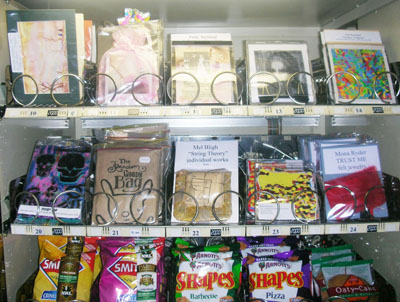 Jane has great ideas when it comes to vending art. For starters, she's using a snack machine to vend, which allows her to set the prices of the artworks individually (unlike capsule, stamp and other vending machines, where you're stuck at whatever price the machine vends at). She convinced local vending business man Paul Long to provide the vending machine. Since she's eliminated this overhead, she's able to give 100% of the proceeds back to the artists. I love the fact that she still vends snacks from the machine, too. You can feed body & soul from one machine!

And she's got a great logo: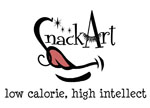 If I'm ever in Australia, I'm heading over there! If you're there now, you can find Snack Art in the Casula Powerhouse.